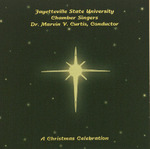 Fayetteville State University Chamber Singers- A Christmas Celebration
Description
The 28 selected students from the Fayetteville State University Concert Choir and The Fayetteville State University Choral Ensemble became the new Fayetteville State University Chamber Singers. Their European journey, at the end of the 20th century, took them to France and Belgium, including a performance at the European Parliament. This convert tour, sponsored by the Transmusical International of Liege, Belgium, was by invitation and opened new doors for these students and Fayetteville State University.
The music reflects centuries of celebrating the wonders of the Christmas story. Many of the selections reflection the tradition of African-Americans, who created a song to celebrate the birth of a child that was ultimately seen as a liberator.
This paper has been withdrawn.