Special Edition
Special Call for Research Manuscripts
This special edition welcomes research and conceptual articles, research best practices, book reviews, and commentaries, in keeping with editorial policy. Areas of interest include, but are not limited to, the following topics:
Mindful Engagement
Mindful Leadership
Leadership and Spirituality
Local and Global Perspectives of Leadership
Brain-based Leadership Frameworks
Emerging Trends and Practices, and Contemporary Approaches to Studying Leadership
The submission deadline for this special edition is May 31, 2019.
College of Education
Welcome to the Journal of Research Initiatives, a peer reviewed journal of editors with expertise in educational issues, trends, and best practices. The journal offers high-levels of editorial and technical support. Each article has a dedicated editor-in-chief, a committed editorial staff, a nationally renowned editorial board, with clear editorial policies. The journal does not charge authors a publication fee, article submission and publication is free.
The articles published in this journal are licensed under a Creative Commons Attribution 4.0 International License.
Current Issue: Volume 4, Number 1 (2018)
Welcome to Volume 4, Issue 1. The editorial review board and the staff of Fayetteville State University, Journal of Research Initiatives have worked diligently to ensure this issue provides our readers with pieces that are both informative and insightful. This issue features articles by leading scholars who have conducted research on (a) how race and racism empowers the school curriculum, (b) gender and diversity issues, such as celebrating the differences of students in public schools and higher education, and (c) international research on the pursuit of education for women in rural Honduras, among others. I would like to thank the reviewers for this issue for taking the time to devote to reading and making suggestions to authors. Also, thank you, the readers, for your support and we hope you enjoy this issue.
Research Articles
Conceptual Articles
Best Practice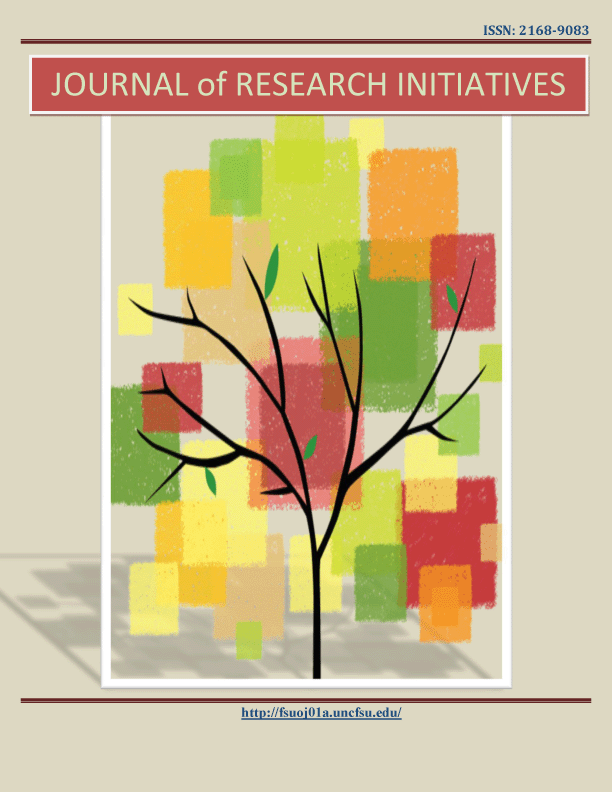 Issue Reviewers
Comfort Okpala

North Carolina A & T State University

Cindy Gissy

University of West Virginia- Parkersburg

Dosun Ko

University of Wisconsin-Madison

Daniel R. Conn

Minot State University

Simone Elias

Abilene Christian University

Papia Bawa

Purdue University

Charles L. Lowery

Ohio University - Main Campus

Danielle Harrison

Northcentral University

Petra Robinson

Louisiana State University

LaVon Williams

Guilford College

Chia Jung Yeh

East Carolina University

Amar Abbott

Taft College

Karen T Jackson

North Carolina A & T State University

Debra Holley

Michael Edward Hess

Jeanne Hines

Randolph B Muhammad

Walden University

Emetrude Lewis

Deanna Davis

Sierra Nevada College

Shawnice Johnson

East Carolina University