Volume 2, Issue 1 (2016) Anniversary Issue
In honor of the beginning of the journal's third anniversary, volume 2, issue 1 is released. I really appreciate the sincere support of the editorial review board members and the editorial team in the School of Education at Fayetteville State University. The success of the journal is actually dependent on the enthusiastic contributions of the peer reviewers who come from all over the world. In these three years, the members of the editorial review board have work diligently to make the journal more accessible to the education community.
I think that the Journal of Research Initiatives is well on its way to being recognized as an emerging international journal, as the call for papers announcements always draw large responses from researchers and educators across the country. I am confident that the authors selected for our third year anniversary issue will provide readers with exceptional research on educational best practices.
Linda Wilson-Jones, Editor-in-Chief
Research Articles
Conceptual Article
Book Review
Best Practice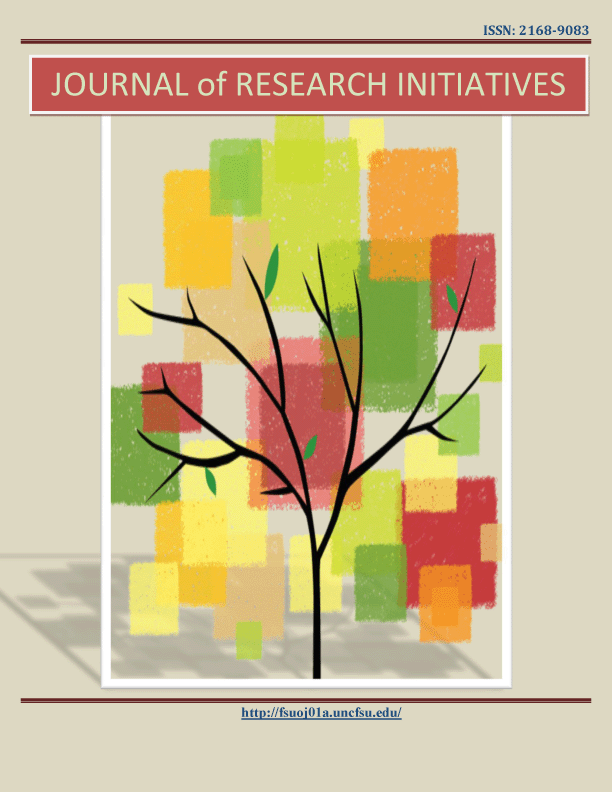 ISSUE REVIEWERS
Charmion Rush

Western Carolina University

Elizabeth M. Bemiss

University of South Carolina
Allison Sayre
University of West Virginia-Parkersburg
Kirsten S. Ericksen
Norfolk State University
Donald Mitchell Jr
Grand Valley State University
Saundra Peterson
North Carolina A & T State University
Nadielka Bishop
Belmont University
Petra Robinson
Louisiana State University
Margery M Coulson-Clark
Elizabeth City State University
Nicole Dobbins
North Carolina A & T State University
Ajay Das
Murray State University
Cindy Gissy
University of West Virginia-Parkersburg
Jeremy E Vittek
Wheeling Jesuit University
Sally A. Zengaro
Delta State University
David Sunsly Mungoshi
University of Zimbabwe
David Allen
Murray State University
Chia Jung Yeh
East Carolina University
Comfort Okpala
North Carolina A & T State University
Peter Litchka
Loyola University-Maryland
Journal Updates.
Since the 2013 launch, the journal has increased its status as an international journal, as noted by the articles published in the most recent issues. As a result, we have increased the journal's impact factor. The journal's application was approved in 2015 for inclusion in the Directory of Open Access Journals (DOAJ) and the journal most recently received a 2.8 InfoBase Index (IBI) rating. The application to the Directory of Research Journals Indexing (DRJI) is pending.