School of Education
Welcome to the Journal of Research Initiatives, a peer reviewed journal of editors with expertise in educational issues, trends, and best practices. The journal offers high-levels of editorial and technical support. Each article has a dedicated editor-in-chief, a committed editorial staff, a nationally renowned editorial board, with clear editorial policies. The journal does not charge authors a publication fee, article submission and publication is free.
The articles published in this journal are licensed under a Creative Commons Attribution 4.0 International License.
Current Issue: Volume 1, Issue 3 (2015)
Dedicated to Dr. Leontye Lewis
On behalf of the editorial team of the Journal of Research Initiatives (JRI®) we proudly dedicate this issue to Dr. Leontye Lewis in recognition of 8 years of service as Dean in the School of Education at Fayetteville State University. Dr. Lewis' tenure is marked by her support of the journal and faculty research projects in the School of Education. We salute Dr. Lewis for orchestrating four successful fundraising campaigns to provide scholarships for education majors and for providing funds to support research conferences and workshops through the Office of Research Initiatives. I personally thank Dr. Lewis for her support during the launching of the Journal of Research Initiatives and for believing in me to bring the journal to fruition. The editorial team wishes her great success on her next career endeavors.
Linda Wilson-Jones, Editor-in-Chief
Research Articles
Best Practices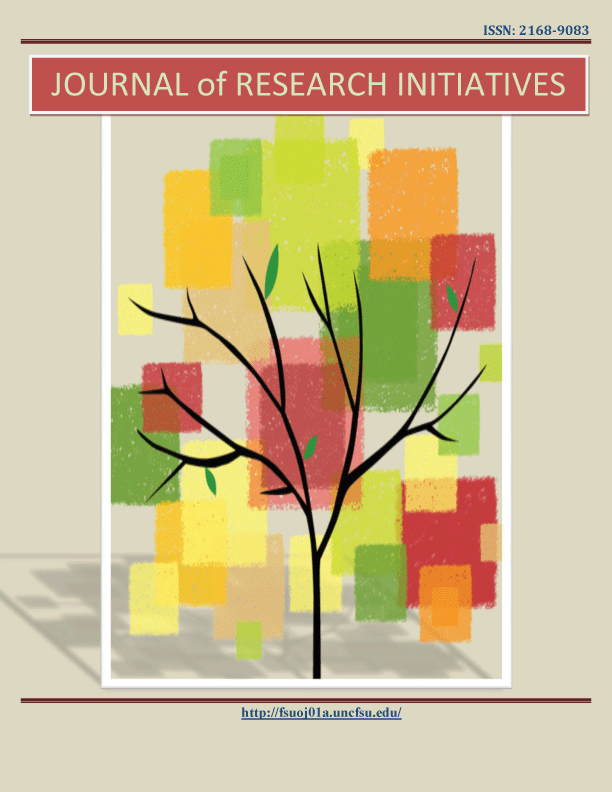 Issue Reviewers
Peter Litchka

Loyola University Maryland

Petra Robinson

Louisiana State University

Andrea Woodson-Smith

North Carolina Central University

Kimberly M Triplett

Mississippi State University-Meridian

JeffriAnne Wilder

University of North Florida

Hashem Maleki

PN University of Chenaran, Iran

Ajay Das

Murray State University

Nicole Dobbins

University of North Carolina-Greensboro

Priscilla Robinson

Hinds Community College-Utica

Cynthia Gissy

West Virginia University at Parkersburg

David Mungoshi

University of Zimbabwe

David E. Allen

Murray State University

Lisa K. Thompson

Prairie View A & M University

Numeriano Ganzan Escalante

Capitol University, Philippines

Chia Jung Yeh

East Carolina University

DeAnna Murphy

Fayetteville State University

Mathias R. Vairez, Jr

Prairie View A&M University

Allison Sayre

West Virginia University-Parkersburg

Rhea M. Perkins

Louisiana State University

Elizabeth Bemiss

South Carolina State University