School of Education
Welcome to the Journal of Research Initiatives, a peer review journal of editors with expertise in educational issues, trends, and best practices. The journal offers high-levels of editorial and technical support. Each article has a dedicated editor-in-chief, a committed editorial staff, a nationally renowned editorial board, with clear editorial policies.
https://i.creativecommons.org/l/by/4.0/88x31.png
This work is licensed under a
Creative Commons Attribution 4.0 International License
.
Current Issue: Volume 1, Issue 1 (2013) Inaugural Issue
Congratulations to Dean Leontye Lewis; Dr. Linda Wilson-Jones, founding Editor-in Chief; and the entire School of Education Editorial team in the publication of the inaugural issue of the Journal of Research Initiatives! Nearly 150 years ago, Fayetteville State University (FSU) was established as a teacher education institution and this new journal reflects our continuing commitment to advancing the quality of education from kindergarten to higher education. The research published in this new journal will be a valuable resource for educators seeking to increase academic achievement of students across the whole spectrum of education. Thanks to the FSU team and many others from other institutions who have contributed to this important accomplishment!
Jon Young, Provost and Vice-Chancellor for Academic Affairs
Articles
Book Review
Commentaries
Best Practices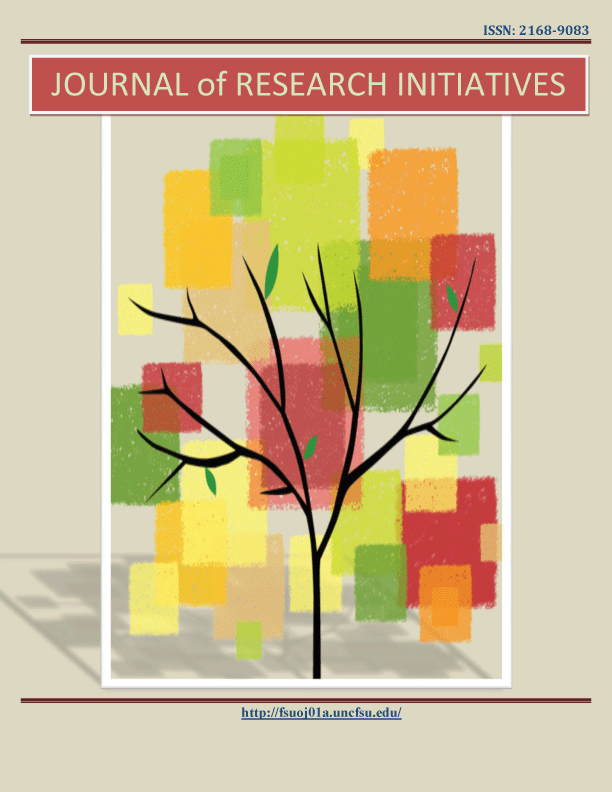 Issue Reviewers
David Allen

Murray State University

Linda Christian

Adams State University

Donnamaria Culbreth

The Intraracial Colorism Project, Inc.

Ajay Das

Murray State University

Nicole Dobbins

University of North Carolina-Greensboro

Numeriano Ganzan Escalante

Capitol University, Philippines

Cindy Gissy

West Virginia University, Parkersburg

Mary Jean Herzog

Western Carolina University

Jeanne Morris Hines

Capella University

Ernest Johnson

North Carolina Center for the Advancement of Teaching (NCCAT)

Peter Litchka

Loyola University Maryland

Hashem "Omid" Maleki

PN University of Chenaran, Iran

Pacha Malyadri

Osmania University Andhra Pradesh, INDIA

Antony Mullen

Newcastle University, UK

David Mungoshi

University of Zimbabwe

Susan L. Ogletree

Georgia State University

Comfort Okpala

North Carolina A&T State University

Walter Polka

Niagara University

Lisa Thompson

Prairie View University

Kimberly Triplett

Mississippi State University

Petra A. Robinson

Louisiana State University

Priscilla Robinson

Hinds Community College, Utica Campus

JeffriAnne Wilder

University of North Florida