College of Education
Welcome to the Journal of Research Initiatives, a peer reviewed journal of editors with expertise in educational issues, trends, and best practices. The journal offers high-levels of editorial and technical support. Each article has a dedicated editor-in-chief, a committed editorial staff, a nationally renowned editorial board, with clear editorial policies. The journal does not charge authors a publication fee, article submission and publication is free.
The articles published in this journal are licensed under a Creative Commons Attribution 4.0 International License.
Current Issue: Volume 2, Issue 3 (2017)
Happy New Year from the editorial staff for the Journal of Research Initiatives (JRI). When the journal was launched in 2013, I was both excited and scared. I was excited to have this opportunity to establish a new avenue for scholarly publishing, and it is a big responsibility. My major motivation was and will always be to provide the education community with a powerful tool to publish open access online research. I am thrilled to announce that the journal has published more than 75 articles within our fourth year of existence. JRI was accepted to the Directory of Open Access Journals (DOAJ) in 2015 and the journal has a 2.3 IBI Factor for the year 2016 calculated by InfoBase Index (IBI). The journal attracts authors who are dedicated and committed to sharing their research and best practices to their friends and colleagues in the field of education. The development of this issue of the Journal of Research Initiatives was surely a collaborative effort. I would like to thank the authors, editorial review board members, faculty, and doctoral editorial reviewers for their dedication to ensure the quality of the journal. It is a pleasure to serve as editor-in-chief and it is indeed a pleasure to work with everyone on the journal and on the upcoming conference, July 21, 2017. Please visit the conference website at http://digitalcommons.uncfsu.edu/jric/ for additional information. We welcome your research locally, nationally, and internationally. Enjoy the first issue for 2017. Linda Wilson-Jones, Editor-in-Chief
Research Articles
Conceptual Articles
Book Review
Best Practices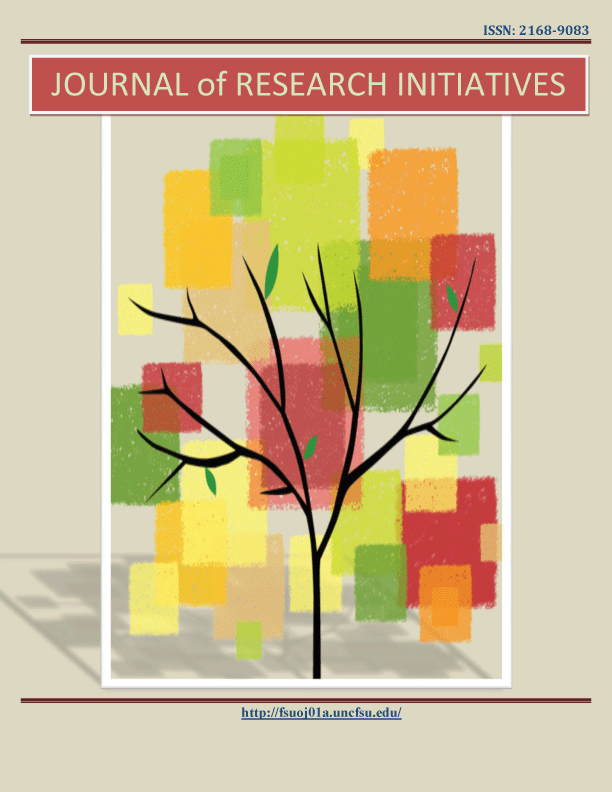 ISSUE REVIEWERS
Cynthia L. Gissy
West Virginia University at Parkersburg
Elizabeth Bemiss
University of West Florida
Comfort O. Okpala
North Carolina A & T State University
Priscilla T. Robinson
Hinds Community College-Retired
Kimberly Mechelle Triplett
Mississippi State University-Meridian
Jeanne Morris Hines
Capella University
Debra Holley
Danville Community College
Andrea Woodson-Smith
North Carolina Central University
Chia Jung Yeh
East Carolina University
Andrea Woodson-Smith
North Carolina Central University
Kirsten S. Ericksen
Norfolk State University
Margery Coulson-Clark
Elizabeth City State University
Jeremy Vittek
Wheeling Jesuit University
Crystal Bryant
Florida A & M University
Journal of Research Initiatives International Conference.
July 21, 2017.
Fayetteville State University
http://digitalcommons.uncfsu.edu/jric/