Volume 5, Issue 3 (2021)
At a time when our global community has faced many challenges, we are truly grateful for the dedication and persistence that prevailed in academic research. Our ability to publish the most recent version of the Journal of Research Initiatives (JRI), Volume 5, Issue 3 is a collaborative effort of academicians, authors, researchers, practitioners, and reviewers. The steadfast commitment of many individuals enables us to bring research articles, concept papers, and best practices to a diverse audience. This publication expands academic research by presenting topics in such areas as access and equity in standardized testing, field-based experiences in special education teacher training, Myers Briggs Type Inventory and honors college students, African-American students and journalism career pathways, COVID impacts on teachers and administrators, and Black women leaders in higher education. We are deeply thankful to our authors, reviewers, and readers for their passion and commitment to academic research.
Sherry Latten, Issue Editor
Research Articles
Conceptual Articles
Commentary
Best Practice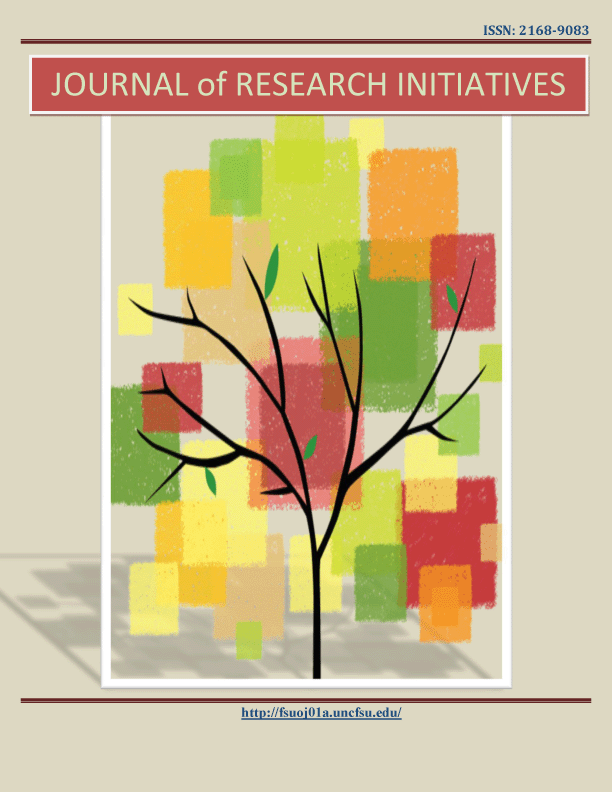 Issue Reviewers
Nicole Dobbins

North Carolina A & T State University

Franklin Turner

Kean University
Sabri Dogan
Ohio University, Main Campus
Michael Edward Hess
Ohio University, Main Campus
Paula Faulkner
North Carolina A & T State University
Deanna Davis
Northcentral University
Jeanne Burth
University of Pittsburgh-Greensburg
Alberto Lopez
Northeastern Illinois University
Ann qinghong Cai
Northeastern University
Crystal Bryant
Florida A&M University
JeffriAnne Wilder
Shaker Heights City School District
Nathan Anderson
Anderson Inquiry
Margery M Coulson-Clark
Kentucky State University
Cindy Gissy
West Virginia University at Parkersburg
Richard McGregory
Madison Metropolitan School District
Edward Cromarty
Northeastern University
Special Edition Coming Soon
Ethnicity, Race, and Multilingualism Committee (ERM) Focus on Mentoring in Publishing The guest editors (Tiffany A. Flowers, Danielle Walker, and Joy Valentine) of this special theme issue seek to publish work related to the experiences of Black, Indigenous, and other people of color inside and outside of educational institutions.